The DCE group is led by Professor Tim Dodwell, consisting of 13 academic researchers right now.
Over the next 18 months, it will be expanded to 16 members built from UKRI, EPSRC, Innovate UK and direct industrial awards with a combined value exceeding £8M.
Ben Fourcin
PhD student
Ben achieved a distinction for a MEng in Mechanical Engineering at the University of Exeter (2014 - 2018). His masters project was on the topic Natural Ventilation in Buildings, he created a novel simplified building energy model to predict transient temperature change in a room.
Before starting the studentship he spent one year working in industry, performing whole building energy simulation services for a range of non-domestic buildings.
Ben's interests include: Machine Learning, Nonlinear Optimisation, Data-centric Energy Modelling
Dr. Grigorios Mingas
Senior Research Data Scientis
Grigorios is a Senior Research Data Scientist at The Alan Turing Institute. He is passionate about using data science to help solve difficult societal problems. He received his PhD from Imperial College London, where he co-designed MCMC algorithms and specialised hardware (FPGAs) to accelerate large-scale Bayesian inference.
His research focused particularly on the accuracy and performance of MCMC algorithms under custom arithmetic precision regimes. He was also involved in a side-project where he used GPUs to accelerate variable selection in genome-wide association studies.
Dr. James Salter
postdoctoral research fellow
Dr James Salter is a postdoctoral research fellow at University of Exeter.
Currently funded by the Alan Turing Institute, working on UQ Frontiers project with Peter Challenor and Daniel Williamson. Also spend part of the time working on a WHO/WMO project with Gavin Shaddick et al., modelling global air pollution (contributions to PM2.5 from dust and other sources).
Research interests: emulating and history matching (calibrating) expensive computer models with high-dimensional output.
Dr. Jim Madge
Research Software Engineer
Jim is a Research Software Engineer at the Turing. Studied in Durham for his PhD using Metropolis Monte Carlo simulations to explore a generic model for patchy, colloidal building blocks and optimise their design for self-assembly.
Before joining the Turing Jim worked at STFC's Daresbury Laboratory as a developer of the DL_POLY molecular dynamics software. During this time he worked on a major refactoring of the source code, implementing the forward flux sampling rare events method and adding support for the OpenKIM 2 interatomic potentials library.
At the Turing Jim is eager to develop high-quality scientific software and encourage good software development practices. He is also involved in managing and promoting Turing researcher's access to high performance computing platforms.
Joanna Bennett
PHD STUDENT
Joanna Bennett is currently working towards her PhD at the University of Exeter, as a member of the Datacentric Engineering Group.
Joanna undertook a Masters' Degree in Mechanical Engineering from the University of Exeter, graduating in 2007. After this, she spent 10 years working in industry, first with Crane Fluid Systems in Ipswich, designing and assisting with the manufacture of industrial valves; then with Goodridge Ltd, a producer of automotive fluid systems. In the latter role, she took on much of the technical work of the office, conducting research projects and providing in-house training.
In 2017 she began her PhD, funded by GKN. This project aims to create a viable computational model of the material behaviour of composites during manufacture. She now works part-time, so she can spend the rest of her time with a very active toddler!
dr. Louise Kimpton
postdoctoral research fellow
Dr Louise Kimpton is a postdoctoral research fellow in the Data Centric Engineering Group at the University of Exeter, under the supervision of Professor Tim Dodwell.
Louise obtained her MMath degree in Mathematics with first-class honours at the University of Exeter in 2016. She then continued to study a PhD in mathematics at Exeter under the supervision of Peter Challenor and Danny Williamson. Her thesis was submitted in April 2020, entitled "Uncertainty Quantification for Numerical Models with Two Regions of Solution".
Dr. Michael Gibson
Research Fellow
Mike graduated his degree in Computer Science from the University of Exeter in 2011, where he investigated Genetic Algorithm (GA) methods for tackling the traveling salesman problem. He completed his PhD in Computer Science in 2015 also from the University of Exeter, where he investigated the use of Genetic Programming (GP) for the creation of Cellular Automata (CA) state transition rules. This work investigated the GPCA method's use for theoretical CA such as the Game of Life, and also for Real-world systems, specifically Urban flood modelling. In his thesis, he also investigated the use of highly parallel hardware in multi-core CPU and many-core GPU, using the OpenMP and OpenCL API's respectively.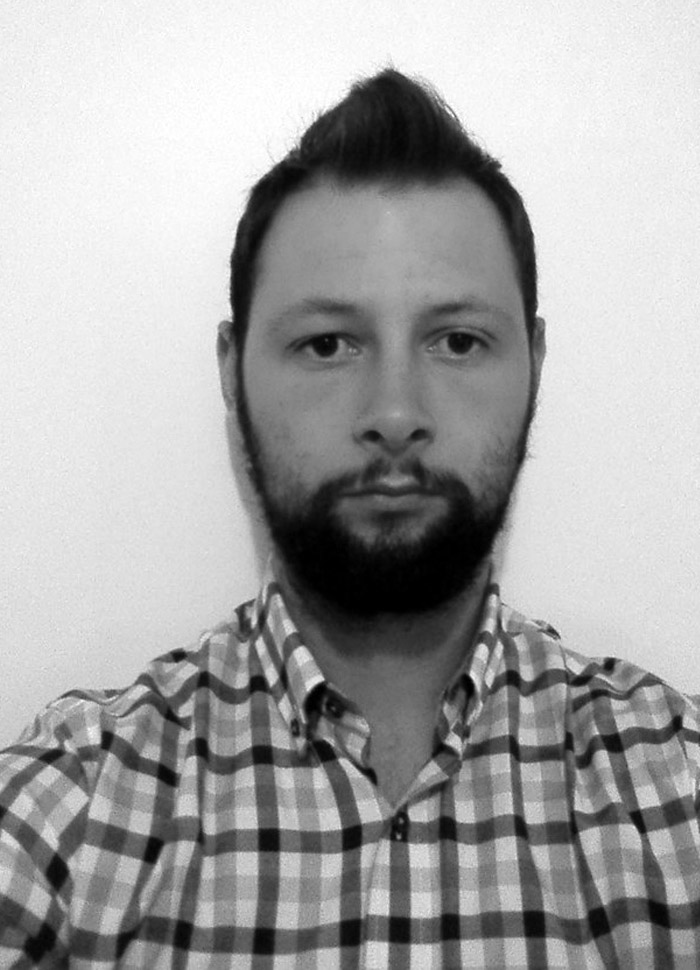 Nikolaos Papadimas
PhD student
Nick obtain his BSc in Mathematics from the University of Ioannina and his MSc in Applied Mathematics from NTUA (National Technical University of Athens), in the dissertation he worked in modeling a cancer treatment named "Hyperthermia-Treatment" in close collaboration with Microwaves and Optics Laboratory of NTUA.
Mikkel Bue Lykkegaard
Graduate Research Assistant, PhD Student
Mikkel Bue Lykkegaard is a Graduate Research Assistant in Prof. Tim Dodwell's Data Centric Engineering Group at University of Exeter. In that respect, he is on a short hiatus from his PhD fellowship with the Water Science and Engineering Centre for Doctoral Training (WISE CDT), which Prof. Tim Dodwell is co-supervising with Dr. David Moxey. Mikkel's research is mainly concerned with hydrogeological inversion and uncertainty quantification – or the art of managing groundwater ressources using sparse and uncertain data. Apart fom his academic research, Mikkel administers the Data Centric Engineering Group's GPU-powered HPC computer 'Hydra', which is employed for various compute-intense tasks in the group.
Dr. Konstantinos Agathos
Lecturer in Computational mechanics
Dr Konstantinos is a Lecturer in Computational Mechanics in the College of Engineering, Mathematics and Physical Sciences. He studied civil engineering in the Aristotle University of Thessaloniki (Greece) where he also obtained his PhD. He continued his research as a post-doctoral researcher in the University of Luxembourg, while prior to joining the University of Exeter, he worked as a post-doctoral researcher in the group of Structural Mechanics and Monitoring at ETH Zurich (Switzerland), as part of a Marie Curie Individual Fellowship.
His research focuses on the development of methods for the computational modelling of fracture, and more recently on the combination of such methods with data-driven techniques towards the realisation of the concept of "digital twins". Some specific topics of interest include the modelling of non-planar crack propagation using enriched finite element methods, the development of reduced order models for cracked solids and structures, as well as their application to crack detection problems.
Dr. Chensen Ding
POSTDOCTORAL RESEARCH FELLOW
Chensen Ding obtained his Bachelor's degree majored in Automobile Engineering from Hunan University (Double class, 985, 211 project), China in June 2011. Then he immediately started his research career as a Master student majored in Mechanics, and obtained his Ph.D. degree on Mechanical Engineering in June 2018 from the State Key Laboratory of Advanced Design and Manufacturing for Vehicle Body (SKL) in Hunan University. When his main interests lay upon Computational Mechanics (various numerical methods, particularly IGA), CAD/CAE integration, Structural modification, fast reanalysis, and (shape and topology) optimization, as well as stochastic analysis/uncertainty quantification.
During this time, he spent two years in Peking University from Sept 2013 to Sept 2015, as a joint Master focusing on Computer Graphics, CAD/CAE integration and adaptive analysis. Then, supported by China Scholarship Council (CSC), he spent 15 months from Oct 2016 to Jan 2018, as a joint Ph.D. student in the University of Minnesota-Twin Cities, US researching on model order reduction, heat transfer and uncertainties. Recently, he worked at the University of Luxembourg with Prof. Stéphane Bordas from December 2018 as a postdoc research associate, working on IGABEM for CAD/CAE integration and data-driven with high-dimensional uncertainty quantification.
Now, he worked with Prof. Tim Dodwell in University of Exeter, UK and closely collaborated with the Prof. Scheichl at Heidelberg, within the EPSRC program CerTest (Certification for Design - Reshaping the Testing Pyramid), taking the responsibility of Multiscale Modelling / Uncertainty Quantification
Dr. George De Ath
POSTDOCTORAL RESEARCH FELLOW
George is a postdoctoral research fellow at the University of Exeter.
He obtained a first-class degree in MSci Computer Science and mathematics at Exeter in 2015 before going on to complete a PhD in computer Science there. Before starting in the DCE group, he was a Research Fellow on a UKRI project titled "Rapid Calibration of operational and Strategic Digital Twins" with Prof. Richard Everson and Prof. Jonathan Fieldsend.
His research interests include optimisation and machine learning, with a particular interest in Bayesian optimisation and Gaussian processes.
Dr. Mark Hobbs
POSTDOCTORAL RESEARCH FELLOW
Mark is a postdoctoral research fellow at the University of Exeter and the Alan Turing Institute. He completed his undergraduate degree in civil engineering, followed by a masters degree in nuclear energy. After three years working in the nuclear industry, Mark started a PhD in the Structures Research Group at the University of Cambridge. Marks research focussed on the development of a numerical model to predict the failure behaviour of quasi-brittle materials.
The model was developed using the peridynamic theory of solid mechanics, an integral formulation of continuum mechanics that allows for the natural inclusion of fracture behaviour. Mark has broad research interests in peridynamics, computational mechanics, high performance computing, and uncertainty quantification.
Dr. Anhad Sandhu
POSTDOCTORAL RESEARCH FELLOW
Dr. Anhad Sandhu is a research fellow in the Data Centric Engineering Group at Exeter. He obtained a PhD in Applied Mathematics titled Multiscale methods for random composite materials supervised by Prof. Timothy Dodwell. During this time he contributed to the development of a high performance computational package for solving large scale, strongly anisotropic problems. He also modelled the effect of defects on the strength on composite components as part of an industrial case study with GKN Aerospce.
Previously, he graduated with an MEng degree in Aerospace Engineering from the University of Bath. His interests lie in statistics, uncertainty quantification and high performance computing. He is also keen to get involved with more AI based projects.
Ben Boyes
Graduate Research Assistant, phd student
4th year undergraduate engineering student at Gonville & Caius College,
Cambridge. He studied for a bachelors degree in Structural and Civil Engineering and is currently studying for a Masters in Information and Computational Engineering. Ben spent 8 weeks over the summer as a Research Student under Prof Mark Girolami studying the Statistical Finite Element Method and applying a stochastic analysis of gyroid beams.
He is doing his final year project with Prof Mark Girolami and Prof Tim Dodwell on the development of a novel simulation tool called Probabilistic Peridynamics.
For which he take a summer secondment at the Alan Turing Institute as a graduate researcher, going the work with Prof Tim Dodwell, before starting a PhD at Cambridge in Autumn 2020.
Yujin Du
Research Manager for Data Centric Engineering Group
Ms Yujin Du is the Research Manager for the Data Centric Engineering Group led by Professor Tim Dodwell at the University of Exeter. Yujin obtained her BSc degree in International Business with first-class honours in China in 2013.
After that, she worked in a commercial bank in China for 3 years. In 2017-18, She studied MA Translation at University of Bristol, while taking a part-time role as an events intern in the Division of External Relations at Bristol.
In 2019, she obtained her postgraduate degree with distinction at the University of Bristol and then worked as a Research Administrator in Bristol Medical School before joining Exeter.